Last Day in Essaouira, Morocco
By Jen Lewis
It's Monday, May 21 now, and we're on a train from Marrakech to Fes! It's going to take seven hours, and we're three hours in, waiting for people to get on at one of the Casa train stations. It's a good time to spend writing, though I won't be able to post this for a while.
Saturday morning was lovely. We woke up late, and after I wrote my first Essaouira blog post, Miriam and I headed up to the roof for breakfast! Malawi with fresh strawberry jam, bread and butter, coffee and orange juice—really, really good! I need to get more Malawi, that stuff is amazing!
And the view from the top was lovely, too. You couldn't see the ocean, but it was nice just the same.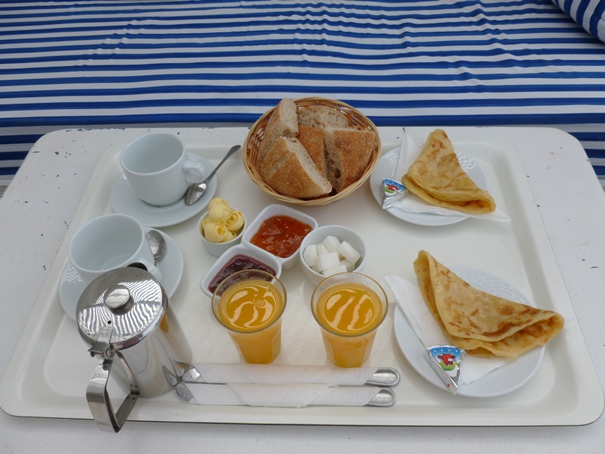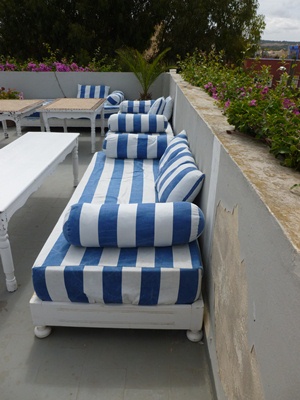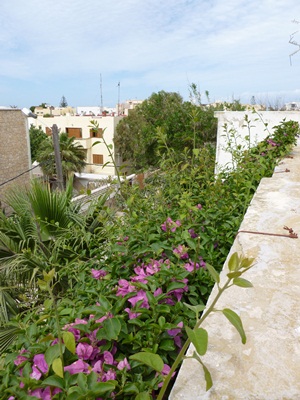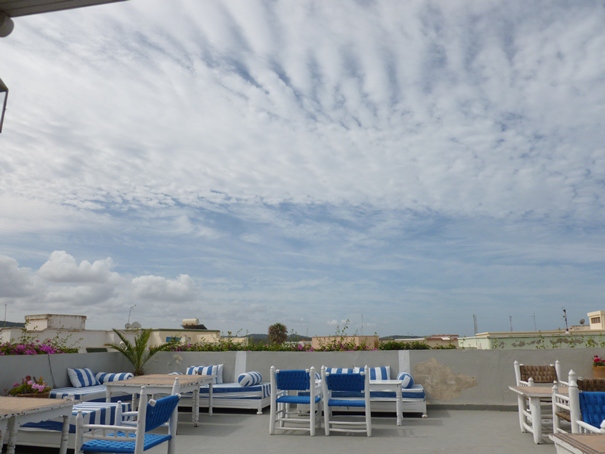 Miriam went to a couple meetings in the morning, and then dropped Miriam and I off at the beach. It was cool and windy, but so gorgeous! We found a piece of sand that wasn't overrun with French tourists, and there weren't as many hecklers, and we settled in to soak in the sun for a bit.
The cuuuuuuuuutest little kids were playing in the sand near us, so I joined them in making sandcastles and circles and burying them under the sand. They were super adorable, and even though we couldn't really communicate, it was so fun.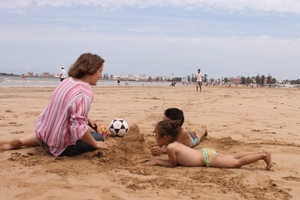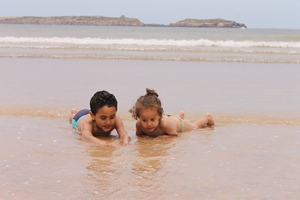 Saturday was the day we decided to take tons of touristy pictures on the beach, so here they are…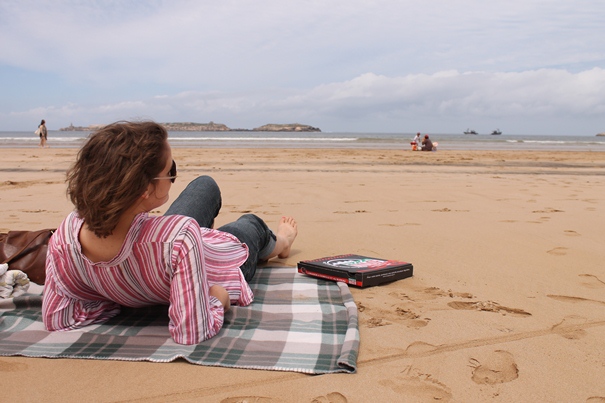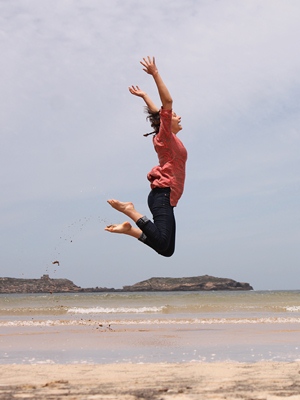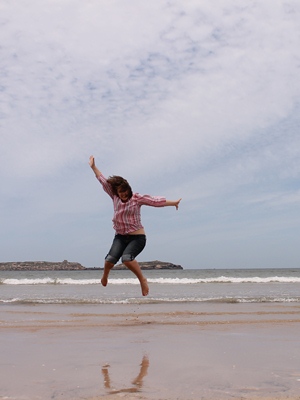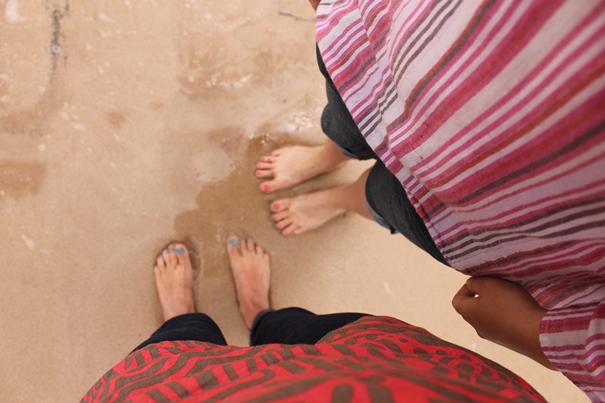 Daniella picked us up and we spent some more time in the old city, and went to the port to look at fish! Really cool, but I felt like I was going to throw up, the smell was so strong. We saw sharks and eels and some ridiculous looking fish! The fishermen were very superstitious about cameras, so they didn't let us take a lot of pictures. We did get some cool shots around the old city, though!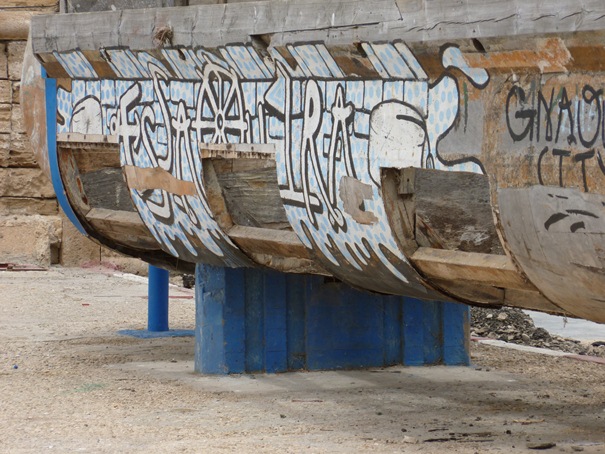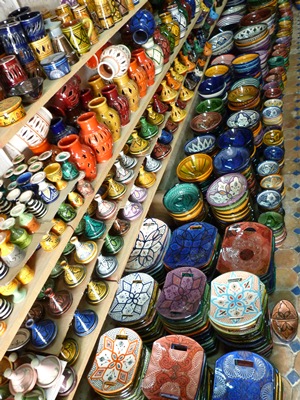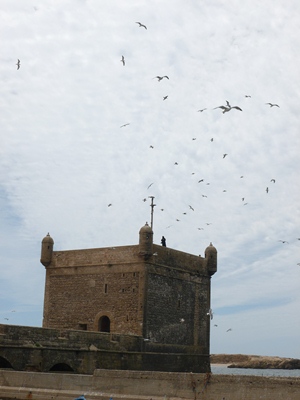 After the medina, we headed back to the beach and decided to go surfing! This time, I joined them, and it was so fun! The waves were super low, but it was really fun, just the same.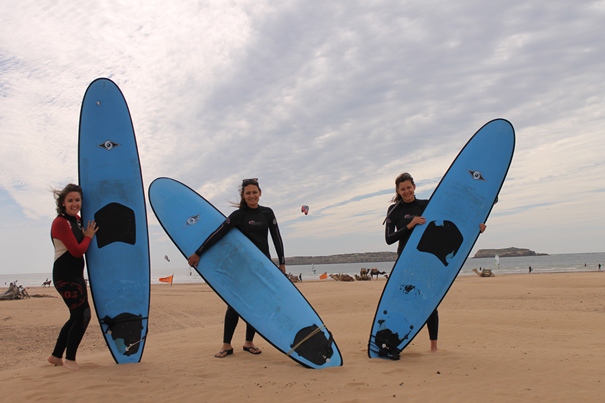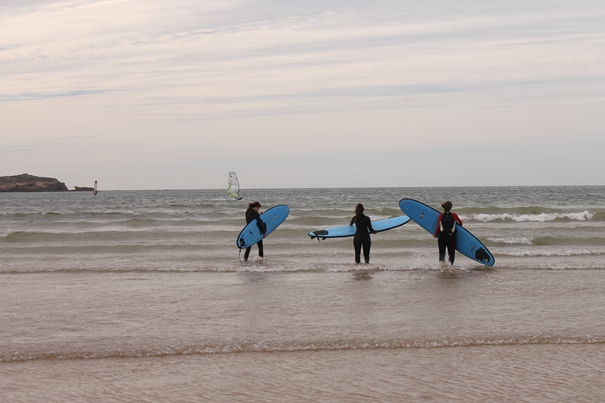 We got sandwiches at Flippin' Pizza (the place we got our pies the night before), bought some fish for Daniella's neighbors, and started driving home! We did have one other run in with the Essaouira police, but Miriam and I prayed our way through it, while Daniella talked them out of a 700 Durham ticket. Stressful experience!
I slept most of the way home (as always), but we stopped for a bit to get pictures of a gorgeous African sunset! So happy for such a perfect day—so fun hanging out with these girls in a new city!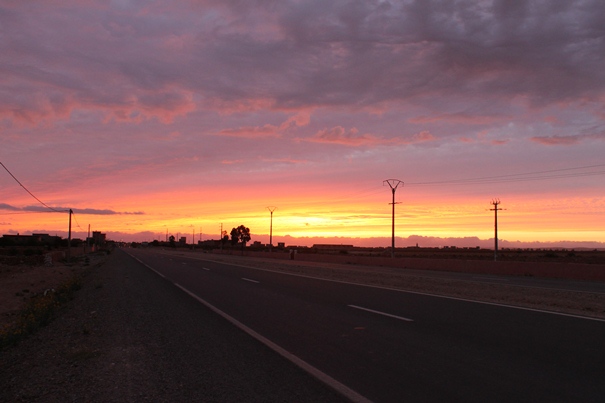 Sunday in Marrakech
We got Malawi again on Sunday morning, yay! Before church, we stopped by a café to get a quick breakfast. I swear I could eat that stuff for every meal and be perfectly happy. Also quite fat.
Church, McDonalds, and a nice day of resting at home! I got to Skype with the lovely Netti Knowles, work a little bit, organize pictures and pack for our trip today! I also watched the season finales of both Parks and Rec and Smash. Both were very exciting.
Plan for this week in Morocco
We're currently on our way to Fes, where we'll be staying until Friday, I believe. Miriam heads back to Bosnia on Thursday, so it'll just be Daniella and I from here on out! So sad to see her go. After Fes, Daniella and I will head down to the Sahara with a group, so Daniella can meet with some people for her business.
We won't be back in Marrakech until Tuesday next week—I'm missing a week and a day of Arabic classes. Sad, sad.
Ohhhh, the land we're flying by in this train is so beautiful. We just passed Casablanca, so we're along the coast now! 8:45am—we've got another few hours to go. Definitely ready to be off this train, though!
Quick note! The vast majority of the pictures belong to the lovely Miriam! Thank you so much for letting me use them, girl!