May 29 and 30 - Fixing Cameras, Hollywood of Africa, and Marrakech!
By Jen Lewis
SO we had a lot of broken cameras, but our driver knew a guy that could help, so we decided to go for it. It turned out that my camera was the only one that was salvageable, and he only charged 100Dh, so it worked out alright.
While the camera guy was looking them over, we toured Atlas Studios. A lot of films I have never heard of were filmed there… BUT there were a few—Gladiator, The Mummy Returns, Ben Hur, and while we were there, they were filming a movie called "The Bible," which I can find NOTHING on the Internet about. Sadlyyyyy, I had no camera during this time. Daniella got some pictures, though… yay!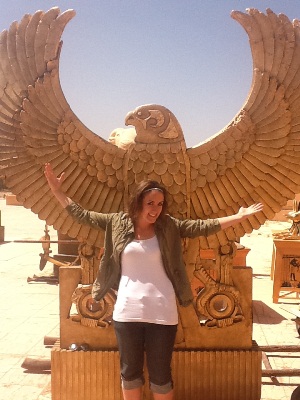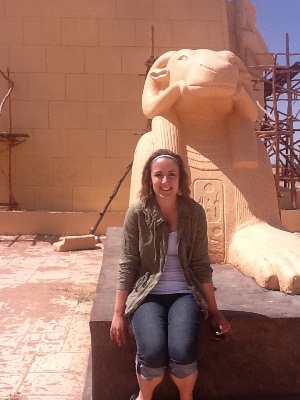 Our tour guide was awesome... and I have no idea what was happening in the second picture, when Daniella snapped it, but it makes me laugh!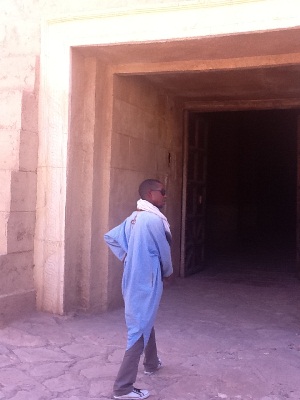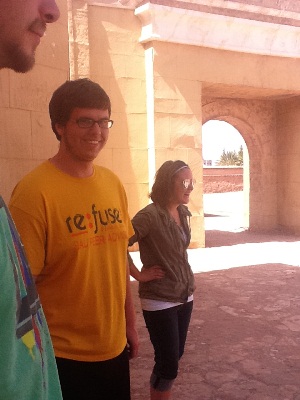 After we picked up our cameras, we drove and drove and drove some more. Stopped for a bit to get snakes put on us (oh joy!) and take some pictures… and then drove and drove and drove!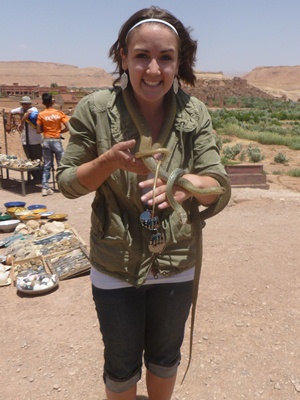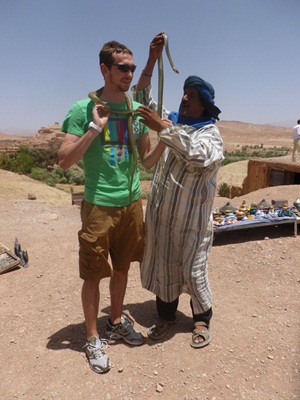 These guys were so much fun! Roger, Derek, Ohio (Bryan), Alli, Dani, Evan, Hannah, Kreg and Aaron!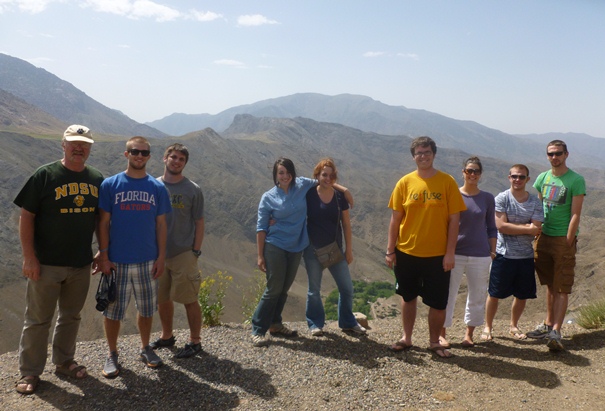 THEN we got into Marrakech. Such a happy moment—I feel like I've come home! And it really IS my home for the next five weeks—crazy to think that I'm not even halfway through my time here! It was so nice to sleep in my own (?) bed!
May 30 – Tours, Water Parks and the Djemaa El Fna
It was seriously sad saying goodbye to the Michigan-ers, they were absolutely amazing to let me tag along with them for the past couple days! So we ended my time with them with a bang, by my joining them for one more day—even though we were already in Marrakech!
The morning consisted of a tour that I could've done without (water park early, please?), but I got some cool pictures just the same! After the tour, Aaron, Ohio and I wandered off, got monkeys pushed on us, and hung out in shady back alleyways…
THEN we went to the waterpark. Possibly the best day of all my time in Morocco—so nice to cool off with slides and waves and lazy rivers! Oasiria was fantastic! And it's amazing to just… hang out with people my own age. *excuse me while I delve into this a little more* I've always felt a little more grown up then most people my age (at least I think so?), and I hang out with people older than me a lot. I mean, before I came to Morocco, I'd spend eight hours a day, five days a week with people 5-20 years older than me! I have friends my age… but not a big group, like with the Michigan-ers. It was just so… fun.
But I didn't get any photos there (…because we were in water the whole time…), so sad!
ANYWAY, we didn't get too much time at the park, because we had to hit up the Djemaa El Fna! Sadly, we didn't go when it was really dark, like we did last time, but it was super fun anyway! Everyone bought a bunch of stuff, we got hounded by shop owners, bartered and stayed together and had ice cream!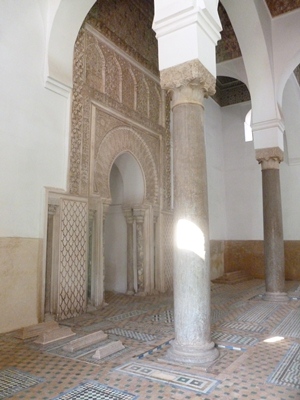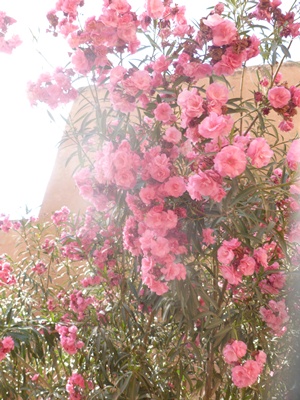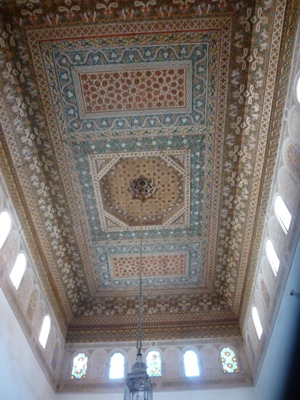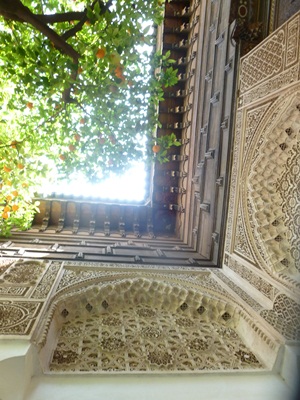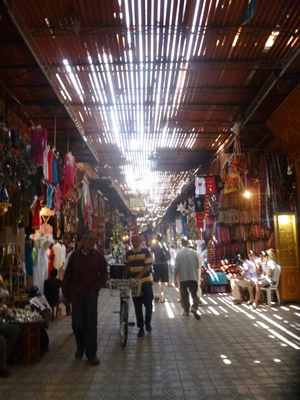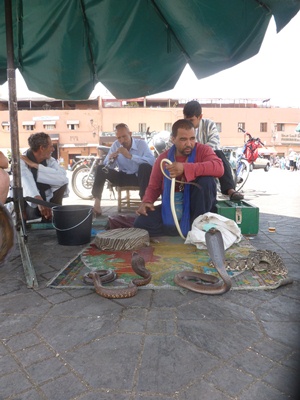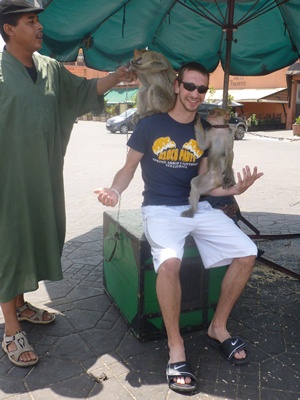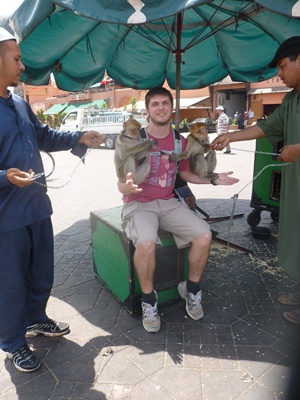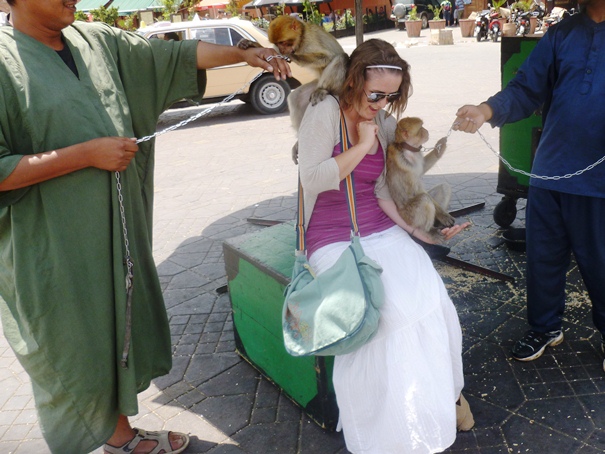 THEN, I had to say goodbye. SO sad (maybe just for me…), because they were all so fun and I love them all! They're off to Essaouira today, and then back to Casablanca to fly home! I gave them all hugs and then caught a taxi back to Daniella's apartment! I wish I could've stayed longer, but it's not so great to be a lady out on the street alone at night in Marrakech.
And I'm pretty much caught up now! It's June 1st now (isn't that crazy?? June!!), and I just spent yesterday (the 31st) at home—dancing and singing along to my music, while cleaning and writing and doing useless things! Oooo, we watched Adventures in Babysitting last night. So ridicuously hilarious. Super blessed to be here.
The next few weeks should be a little less exciting, so I might not be blogging as much… I guess we'll see about that, though! And heyyyyyyyya, Skypers! My name is "welcometojen" on Skype, and I'd love to chat with everyone back home!