Here We Are in Fes
By Jen Lewis
We got in around noon at the train station, disembarked and found an ice cream place (always the first order of business!). They have an AMAZING place here—Venezia Ice. We've stopped by a few of their locations now… then we got a taxi to Daniella's friend's house, where we're staying.
Funny thing about taxis… all the ones directly in front of the train station would come up to us, all nice and smiling and say "taxi?" Then Daniella would rattle off something in Arabic, and they would kind of look dejected and walk away. She explained later that she had said "Sure, if you're going to use the counter!" There are always people ready to rip you off in the world, aren't there?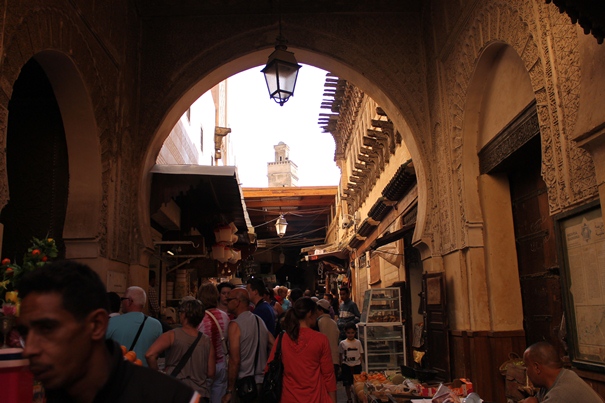 But we got a taxi that wasn't going to rip us off, Miriam's bags almost fell off the top of it, and we headed to our new home till Saturday! Tiny, tiny place, but super cute, and it has a balcony! There are a million flights of stairs to get up here, though—it's ridiculous!
That night we met with some of Daniella's old friends (she lived here for six months), and passed out when we got back to the apartment. We had been going since 4am that morning!
Tuesday….. May 22
Yesterday! I had a super cool meeting with the guy that started the company that Daniella works for—Experience It! Tours. We basically chatted about social media, and I gave him a couple pointers for keeping leads and growing followings and stuff! It was super fun, and he's a really cool guy! He lives in Libya (they're starting another branch there), but was visiting Morocco for a bit, to see how everything was going. I'm glad I got to meet with him!
For lunch, we went to this weird little place in the medina… a Disney Channel restaurant. And it's obviously not sanctioned by the Disney channel, but it has their logo, and a few characters (Mickey Mouse, Donald Duck, etc.) are pictured around the shop. It's the weirdest thing. Nothing else about it is Disney-esque, so I was very confused. If Disney knew about it….. tsktsk!
Anyway, the shop made one of our lunch companions mention the Disney World Epcot center Morocco display… I'd love to go see that someday!
After lunch, I headed home to do some work, Miriam went out to buy coasters, and Daniella worked on stuff inside the Experience It! Tours offices.
We all met up at 5pm to go to tea at Daniella's homestay parents from the six months she lived here. They were soooooo sweet (and not a word of English, of course), and the food was amazing! I can't name anything we ate, but it was mostly a lot of bread. (so… I'm happy!)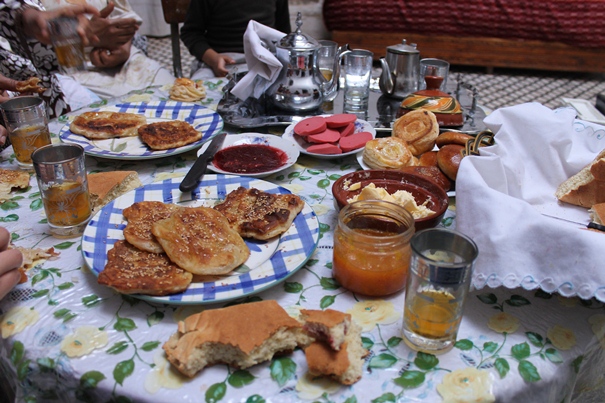 Apparently, Daniella didn't know a word of Moroccan Arabic when she first moved here, and she learned through living at their house! I can't imagine coming here and not knowing anyone AND not knowing the language.
So tea was really fun, and we'll be headed back that way again later this week. BUT we were all super tired, so we headed back to our apartment and watched a movie: Man on a Ledge. SO good! Ohmygoodness, it's one of those movies that you have NO idea what's going on until you finish it. Seriously amazing! I loved it. And I want to see it again.
Soooooo I'm caught up to today! It's 8am now, and in an hour we're heading down to the old city for a medina tour with a few people in wheelchairs, so Miriam can get some pictures for her website! And she needs the computer now, so I'm going to get off…
Farewell!