My First FULL Day in Marrakech
By Jen Lewis
Day 1: Arrived, got lost in Casablanca, picked up Miriam, went to sleep!
Day 2... here's where it gets fun! SO in the morning, I wrote my blog post, summarizing the night before... and THEN we went to the fabric shop. LOVE it! It was so super cool. Miriam and I are having a tailor make us some tunics, so we got to pick out our favorite fabric and get one made! I think I want to go back and get another one made later during the time I'm here... but I guess we'll see how I like this one first. I got a blue and white fabric - very cute!
After purchasing the fabric, we stopped by a pastry shop and got some bread to eat with our tagine at lunchtime. I have no idea how to spell the type of bread we bought, so I won't try... here are a couple shots from the morning!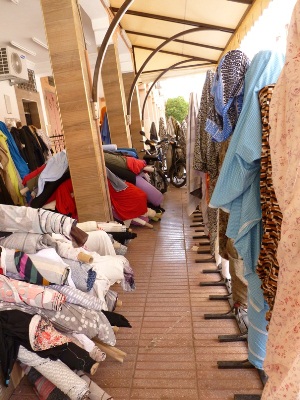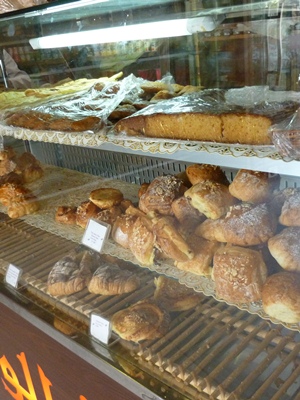 We then dropped off Daniella's rental car, and walked over to her friends' house for lunch! They're a couple who own an adventure business in Morocco, and they have the cuuuuutest kids! Three of them under five years old. Adorable!
We had a traditional Moroccan meal there: tagine. Tagine is basically any meal that is made in this casserole-like dish. Ours had chicken, carrots, potatoes and other yummy things. We ate it out of a community bowl, using the bread we'd bought that morning. With tagine, you each have your own side of the bowl, and dip your torn off pieces of bread into it!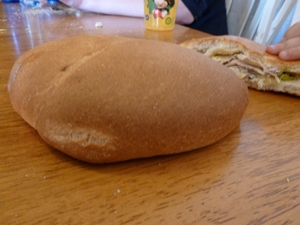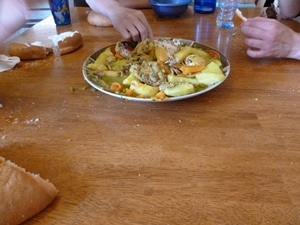 After lunch, while the kids napped, we had a little "orientation" time, and learned more about the culture of Morocco, history, language and people. It's so important to know more about where you are, so that was very cool.
Then we hung out at the pool with another family, played music and walked back to our apartment! THEN... the medina.
The Marrakech Medina - Jemaa el-Fnaa
The Marrakech medina is the reason people visit this city. It's a super ridiculous huge crazy conglomerate of people and shops and animals. And it is seriously fantastic.
This is the first time I truly felt like I was in a different country. I mean, I haven't understood a word of what anyone has said the whole time I've been her, but it's been fairly normal - nothing crazy. Until we entered the medina.
We took the bus there, and arrived probably around 830pm or so. We saw the Marrakech Koutoubia Mosque, took some pictures, and entered the square. There were people beating on drums, playing music, handling hawks, playing with monkeys, on each others' shoulders, and SO MANY PEOPLE. How 'bout some pictures to prove it to you?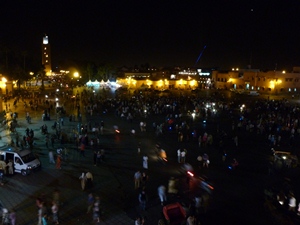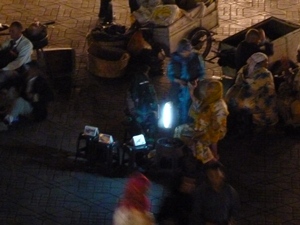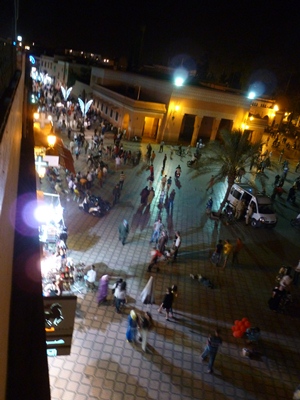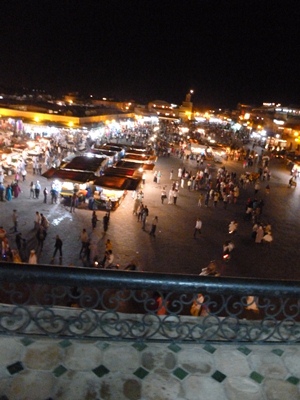 At every stall, the workers are constantly coming up to you, and asking if you want something. The entire time, I was just repeating "La Shukra." And I may have completely butchered that spelling, but it basically means "No thank you." I said it a lot. If you let your eyes linger for just a second too long on something, you will be harassed.
We got orange juice (best orange juice ever!) and ice cream and wandered through the thousands of shops and stalls. It was amazing! The pictures above were all taken from the balcony where we ate our ice cream. The pictures below are just random shots taken from ground level...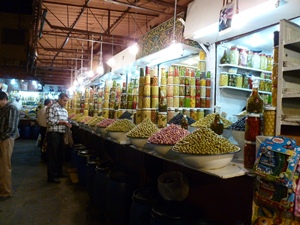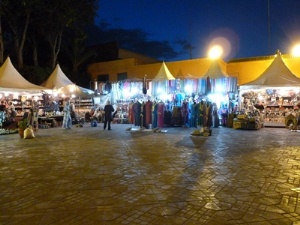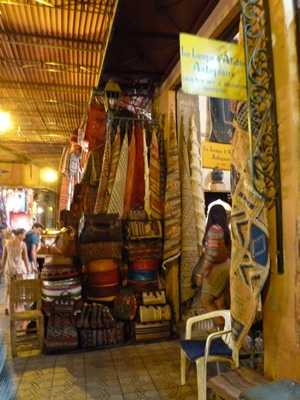 After 1030pm we started getting a little tired, so we headed back out of the old city and caught a bus home. It was an awesome night, but I definitely slept well afterwards! Still getting caught up on sleep. I hope we get the chance to go there again - it was so perfectly Moroccan.