Fes, Meknes, Volubilis and Sleepover!
By Jen Lewis
Ayiyiyiyiyiiii! My grandma would always say that when she got too stressed or too much was going on.. now it's my turn. The last two days have been ridiculous - going, going, going! So much has happened, so much good! Lots to say, though, so get settled in.
It's 1215am right now, and I'm sitting in our apartment in Fes, Morocco, listening to the washing machine sound like it's going to explode. A/C is on, and I'm just so comfy! Daniella is out having couscous with her homestay family from last year. I was going to go with her, but I have things I need to get done, so here I am! Getting things done!
5.23.2012 - The Fes Medina Wheelchair Tour
Woop! This was really, really cool. We started out at 9:30am (just after I wrote my last Fes blog post), and met up with three people in wheelchairs! Unfortunately for me, they all spoke Arabic, so I didn't quite get their names. I was mostly just following along with Daniella, taking pictures and such.
Oh wait! I think my laundry is done... gotta go hang it up, back in ten!
Ahh, look at that! Mum would be so proud...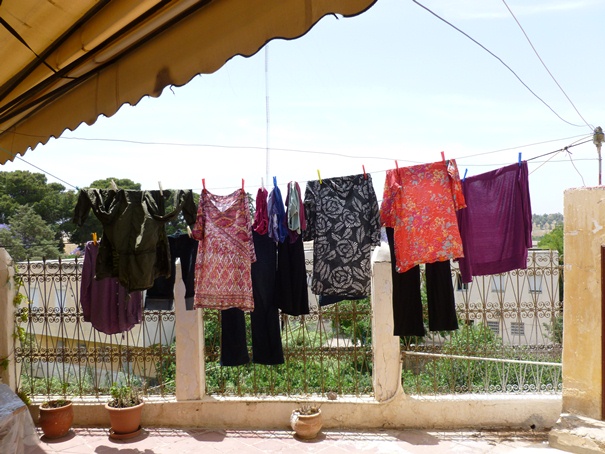 Anyway, back to my recap! Our guide was named Ali, and he was super fun and sweet. He knew French, Arabic and English, but he stuck to Arabic because that was the language of the people in wheelchairs! Basically, we wandered around the Fes medina and he taught us (Daniella translated) about different parts - the history the people and the culture. It was super cool!
The Fes medina is very tricky, though, because it's suuuuuuper steep. Really dangerous for wheelchairs if you don't have the proper help. Daniella had booked four strong guys, though, and we were able to navigate the area pretty well. Lots of people had to stop to let us pass, but because no cars or motorcycles are allowed inside the old city, we were able to get around just about everything. Here are some pictures! I know Daniella will be posting more on her Accessible Travel website soon.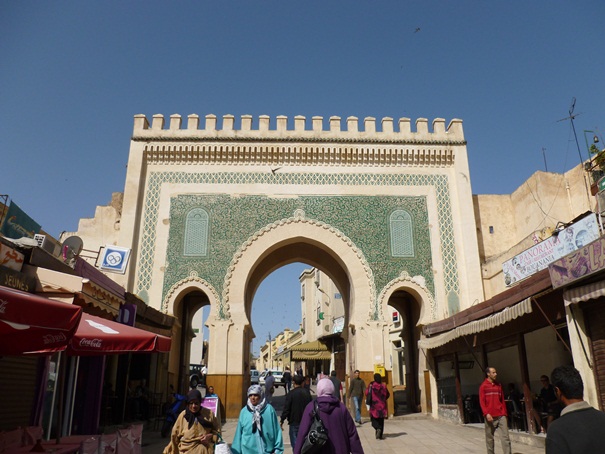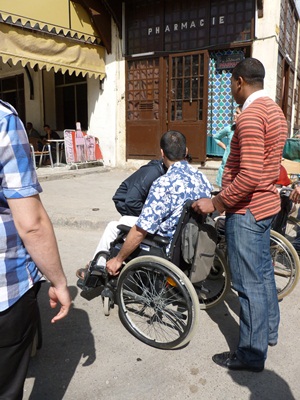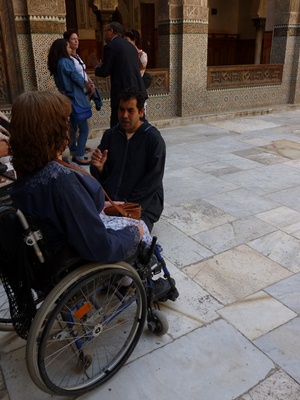 This part of the tour was a Koranic school - they have the most ridiculously amazing mosaic designs and carving. I took a million pictures here, so these are just a few examples...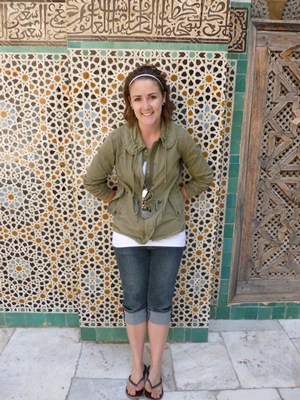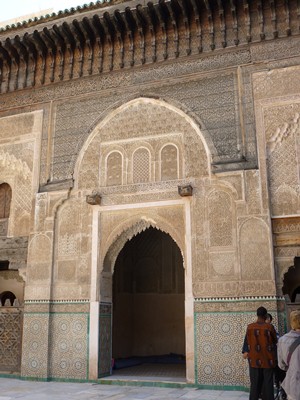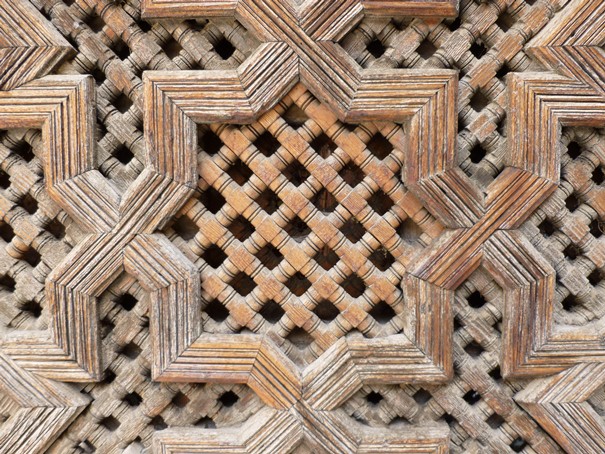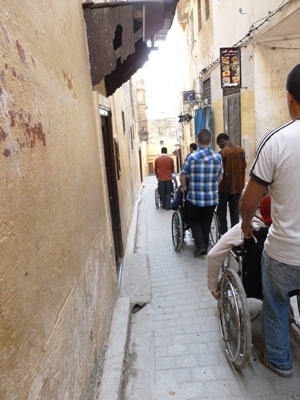 And because no automobiles are allowed inside the Fes medina (it's the biggest "old city" in the world that doesn't allow automobiles inside), everything is by donkey! So cute, isn't it? Made me think of Lee and his little Rio and Margarita! Also, doesn't everything look cooler in Arabic?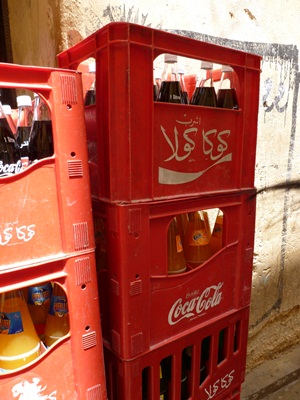 One really, really, really cool part of the tour was we got to visit this little place where they make scarves and we got to see them in action (oh, and, got free scarves!). I uploaded a video of the place to my YouTube account, and here are a couple pictures!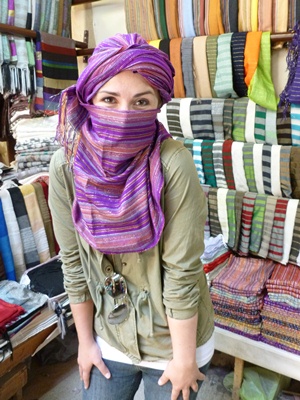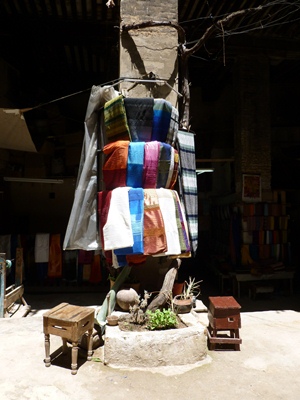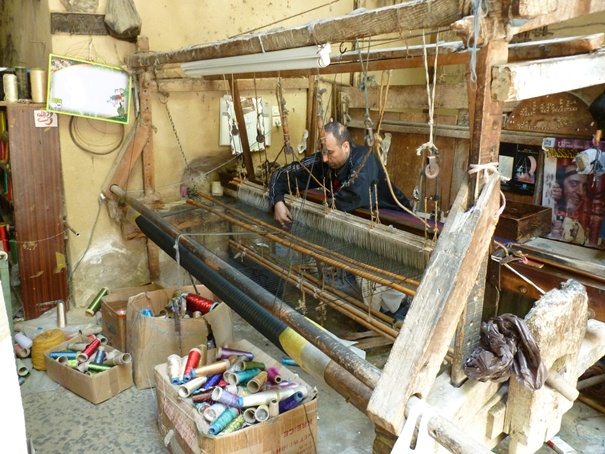 Then we finished up the tour, went to Daniella's friend's house for some tea, and dropped Miriam off at the train station! She was only here for the two weeks, so she had to get back home. We're going to miss her a lot. After dropping her off, Daniella and I headed back to the house and watched another pirated movie (should we stop? No.). This time it was Real Steel, and it was really good! I liked it a lot.
Now, for the next day. That was all just one day! No wonder I'm so exhausted all the time! And there goes the washing machine, about to explode again!
5.24.2012 - Meknes and Volubilis Tours
We woke up bright and early Thursday morning, to go get our rental car! And our rental car was late, so we waited for a long time. No big deal, though, because Meknes is pretty close to Fes - less than an hour long drive. Our funny little car was slightly frightening... definitely beat up, and it squealed a lot. We made it, though!
We stopped at a grocery store to get some bread, cheese and meat for sandwiches, then we were off! Our first stop was Meknes, Morocco. Really, really pretty city, and it had a lot of history inside its medina.
BUT, before I get into that, it's already freaking 130pm! I've been sitting here for over an hour and I haven't even gotten to today! Ohmygoodness. Well I have another hour and a half until I go get henna, so I guess I'll keep going? First - time to hang up another load of laundry, and flip all the pictures I took yesterday!
And... I'm back. Where was I? Meknes, Morocco...
We parked and toured a tomb when we first arrived, and it was so beautiful. There were hardly any tourists in the city, so it was absolutely serene everywhere we went. So amazing! I can't really explain it except through pictures!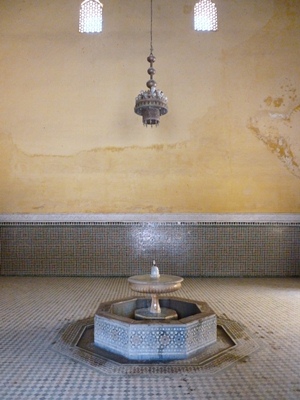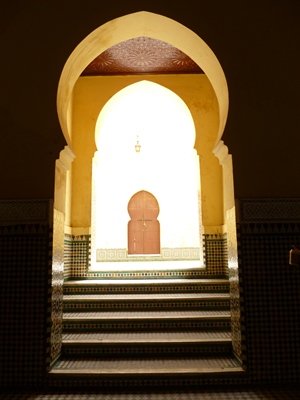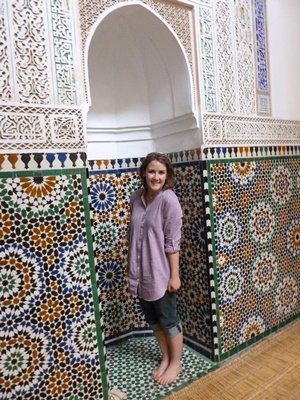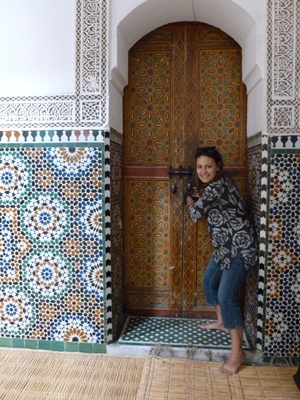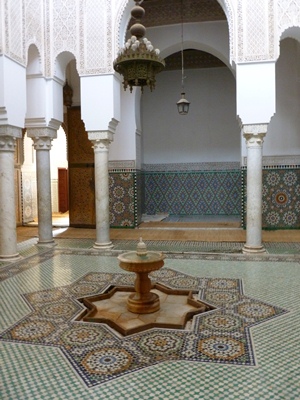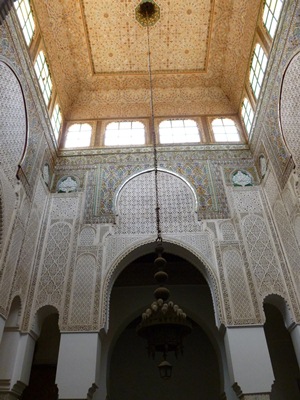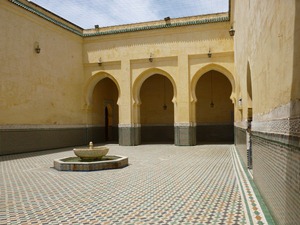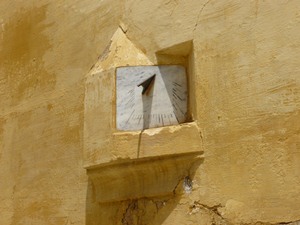 Right after we left that place, we got approached by a man that was giving horse carriage rides! At first we said no, but thinking about it a little more, and realizing how big this city is, we decided to go for it. It was only 150dh anyway, which is less than $20. And it was so fun! He knew a lot of the history of Meknes, that Daniella and I didn't know about, and we got to see a lot of the old city without having to walk in the hot sun! Here are some pics from the ride!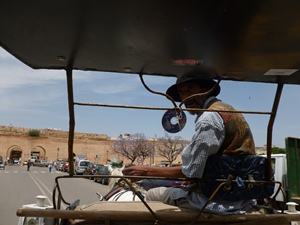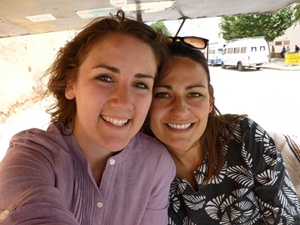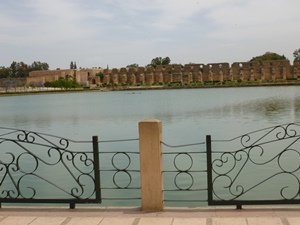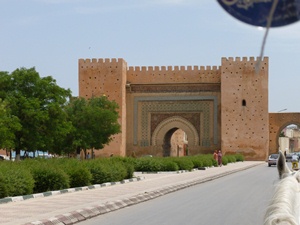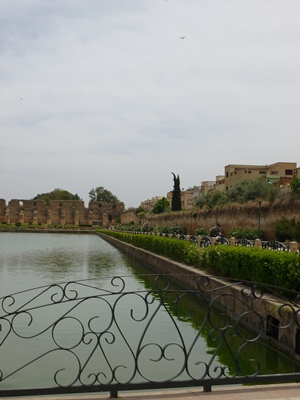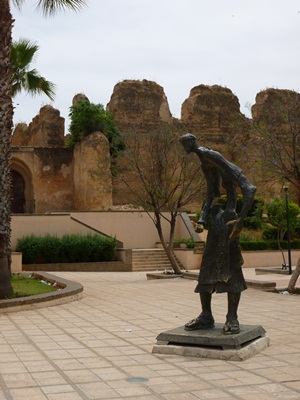 At one point, we went through the Jewish quarter of the medina, and we saw this door that had both the Arabic and Hebraic writing on it. Anyone want to translate for me? Just thought it was cool to see the two together!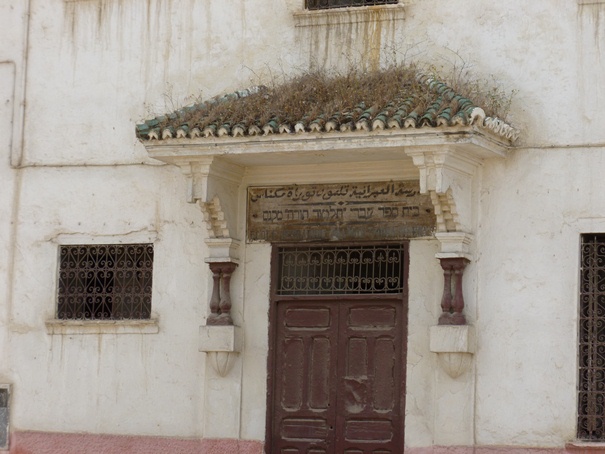 But the tour wasn't over yet! Our guide (Muhammed somethingsomething) stopped at this building that had been renovated. It was a grainery that worked 40,000 slaves (if I was hearing him right!), hundreds of years ago. It was free of tourists too, so it was silent and beautiful inside. THEN we discovered this backyard area with ruins of the old stables! It was GORGEOUS! Ohmygoodness, this place was amazing.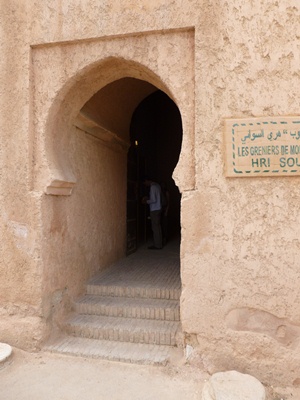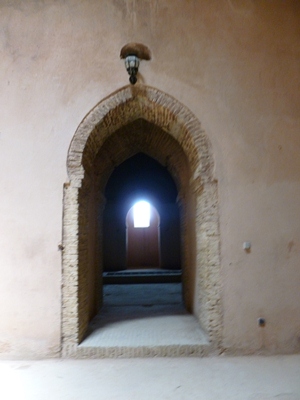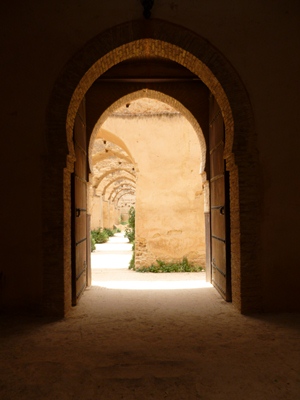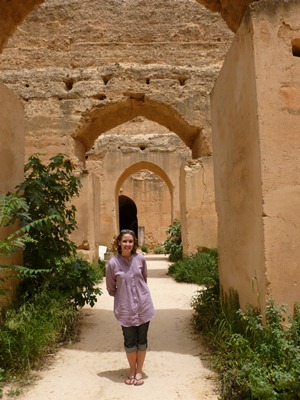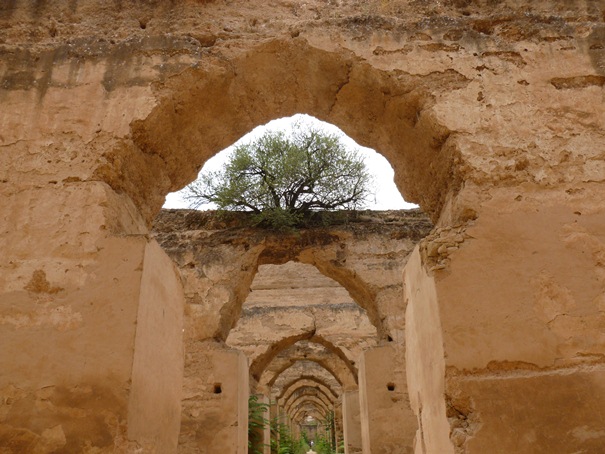 Seriously gorgeous! We hopped back on the carriage again when we were finished (and it was mostly wheelchair accessible, yay!!), and we were off to the prison. The history of Meknes Morocco is kind of sad and depressing, so tombs, ruins and prisons fit pretty well.
The prison is underground, so not accessible at all, but sooooooooo nice. It felt air conditioned down there. It was amazing! Definitely needed, because it was a super hot day. Kind of scary down there, because it was just us.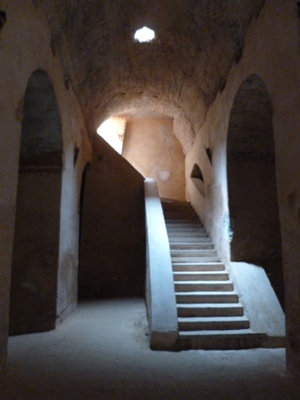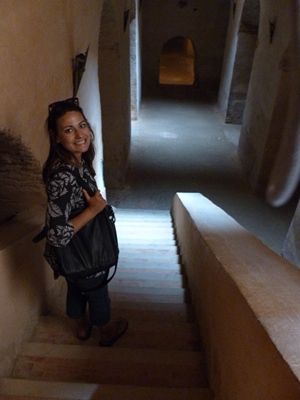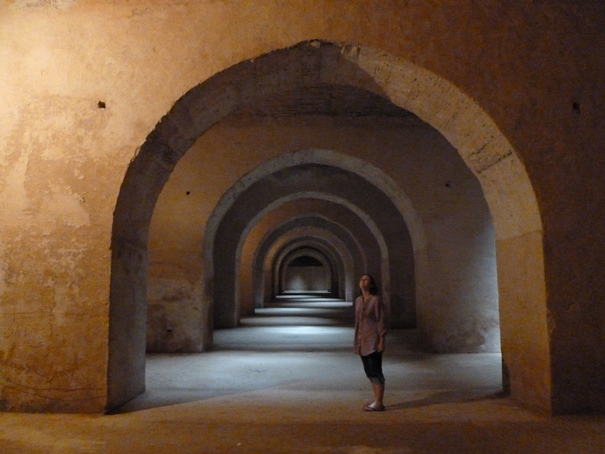 The ceiling had tiny windows, and clovers were trying to grow in, it was beautiful!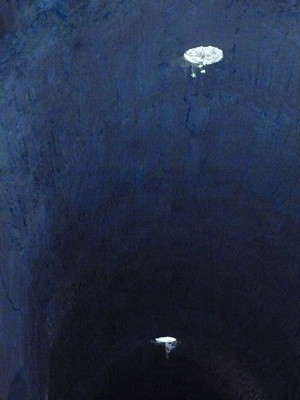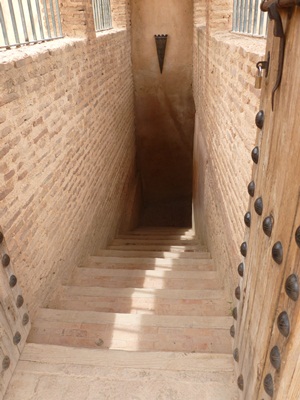 And this is what the windows looked like from the top!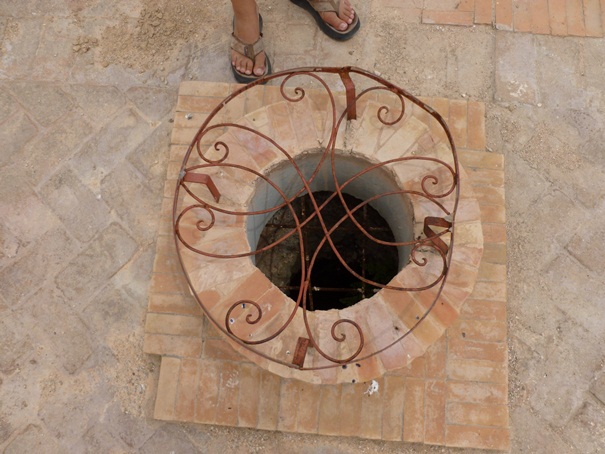 Now For Volubilis! (still the same day)
Dang, we got a lot done in one day! Right now, though, I need to go get something to eat before Henna (it's 215pm now!), so I have to sign off... here are some driving pictures to keep you occupied until I can finish this post tonight! So much to do, so little time!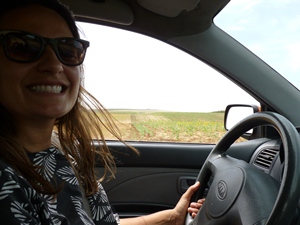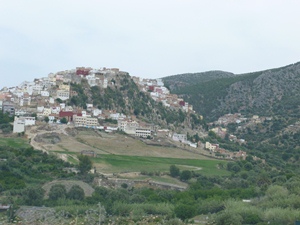 More tonight....
And I'm back! So apparently they decided to move back the henna party to five, so I've got a couple more hours to finish this up! Yay!
SO yesterday, the next step of the tour was to head over to Volubilis! Volubilis is the farthest west that the Romans conquered, and they built a city here. The ruins that you'll see in the next few pictures are from a few hundred years before the time of Christ. And before you ask for exacts, our tour guide gave it in Arabic! What's a girl to do?
But it was absolutely amazing, and it made me definitely want to travel to Rome. Near future, please? The ruins are spectacular. The Romans were amazing with their architecture, despite being hedonistic and crazy. But rather than talking about it, why don't I show you?
Daniella in her super cool new straw hat, and the entrance to the Volubilis ruins...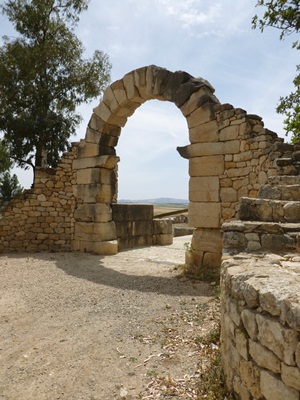 The Romans got the idea of mosaics from the Arabs living in Morocco, but they added the pictures, because the original Arabs would have thought that blasphemy - graven images were no good.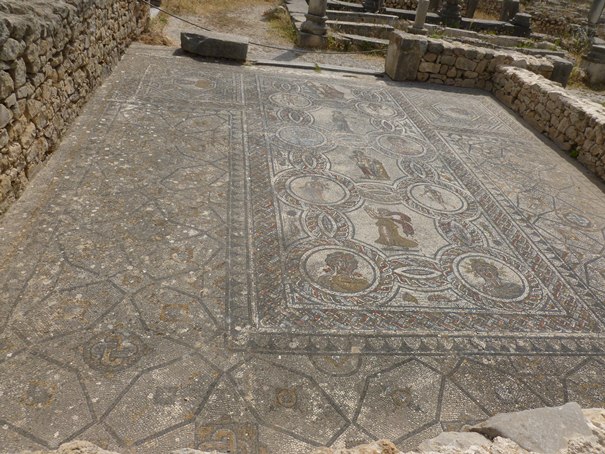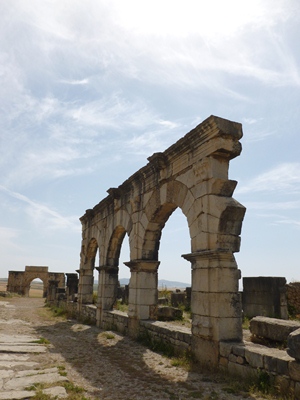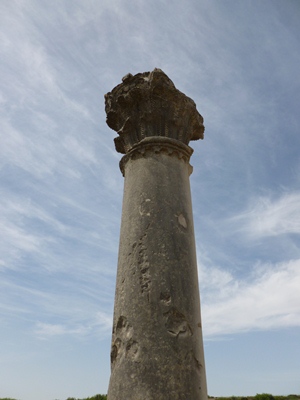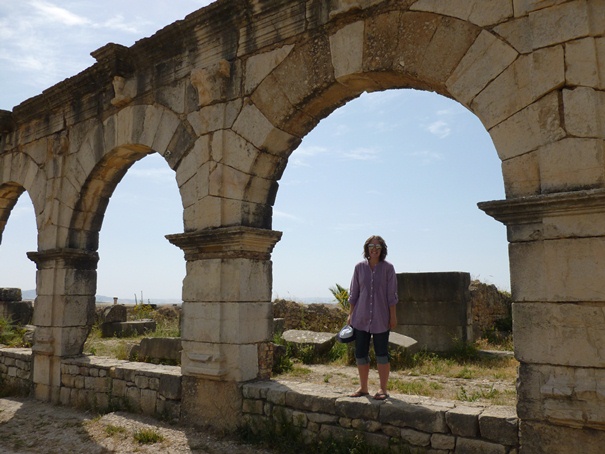 Our guide was funny, even though he refused to speak English for me...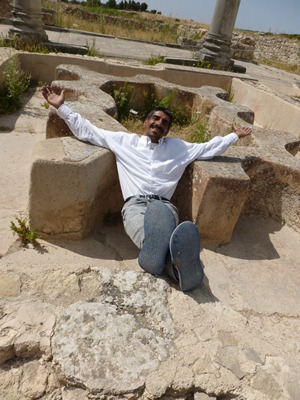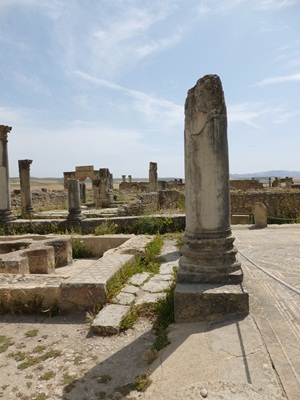 Storks were everywhere in Meknes and Volubilis! They're protected, because Moroccans believe they give them good luck with childbirth! Kind of like in America.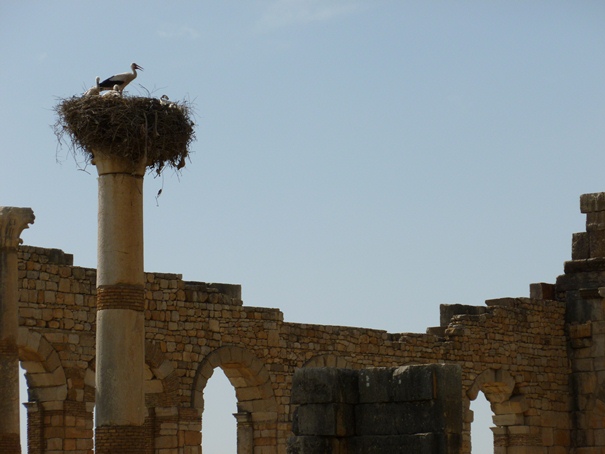 The guide gave me his hat to wear for the day... looked kind of ridiculous, but I'm super happy I had it! It was HOT.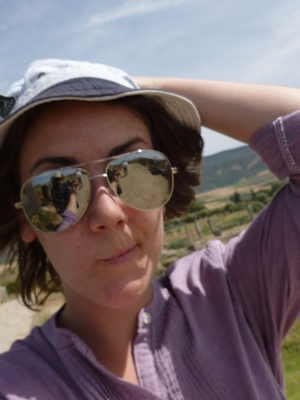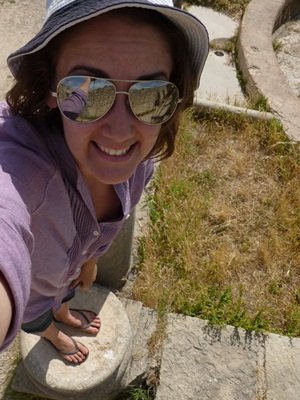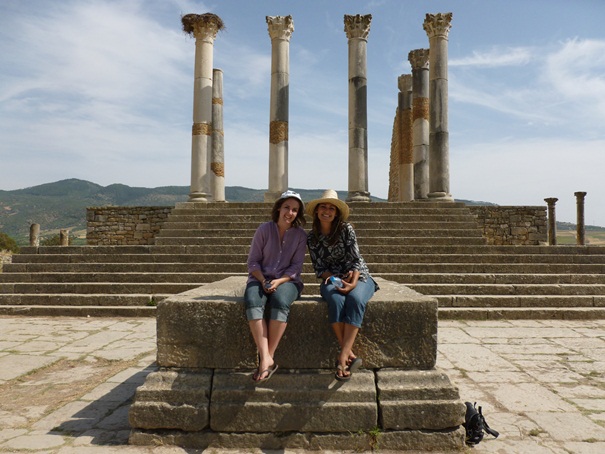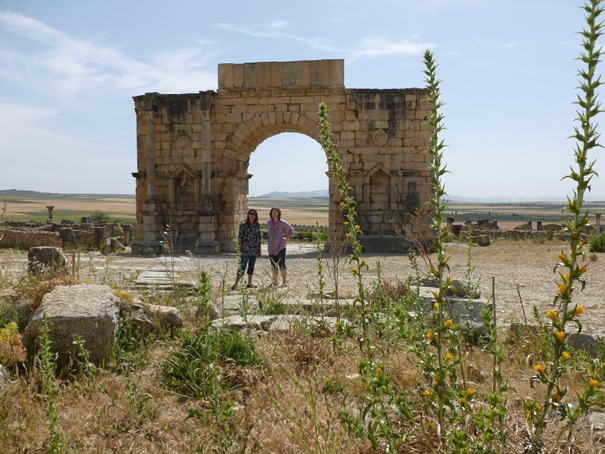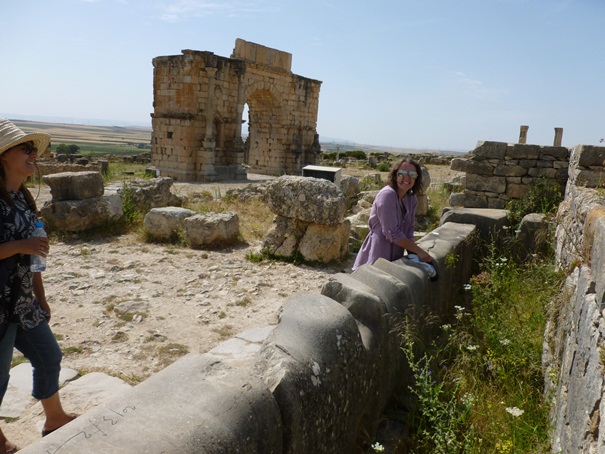 So that was our ridiculous crazy full day! And it's a really, really long blog post with lots of pictures! And... I'm not done!
Sleepover at the Homestay
Daniella lived with a family in the medina in Fes for six months, and they invited us over to spend the night! So after we got back from our Meknes/Volubilis trip, we headed over that way. They're soooo nice, but I could understand basically nothing!
Interestingly enough, most Moroccans don't eat until very late at night. And I don't mean 8 or 9pm at night... we didn't eat dinner until midnight. MIDNIGHT! And that's perfectly normal there! I was already ready to pass out, and they pulled out a tagine, bread, fruit, potatoes and everything, and I stuffed myself all over again (we'd already had tea around 8pm)! Completely ridiculous.
Then, after dinner, they just hang out until the wee hours of the morning. I guess the main reason is just because it's so hot during the rest of the day - late at night is the only time that you can just hang out and be comfortable!
We made cookies with Daniella's homestay mum, because she had a baby naming ceremony that she was cooking for. It was so much fun, and they let me snap a few photos!
Hessen (cousin), Ameena (mum), Daniella, Chaimae (sister), and Miriam (sister).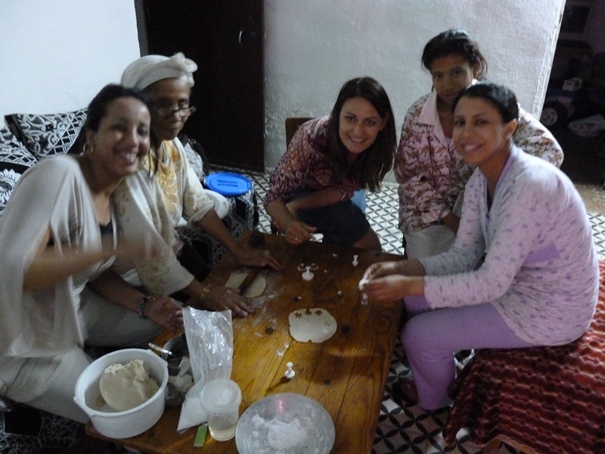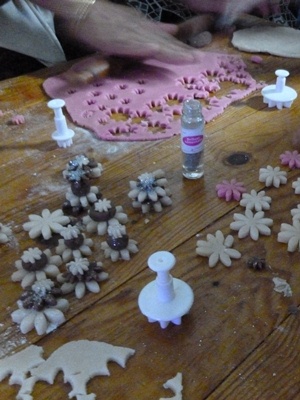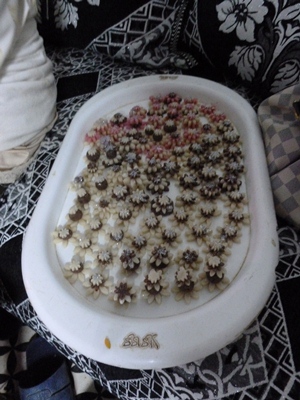 We didn't get to bed until around 130 or 2am. SO crazy!
And now for today!
Oh, I love being caught up! We woke up this morning and got chocolate croissants at a cafe near where Daniella used to go to language school. We planned out the rest of my time here in Morocco (another six weeks - crazy!) while we were there, so that was nice.
Then we dropped of the car, Daniella headed out to a couple meetings, and I cleaned up around the house and started writing this blog! WOOOOOOOOOOOOOOOOOOO!
This feels so nice. Except now it's going to be hard, because we'll be in the desert (sahaaaaara) the next couple days, and I won't be able to write! Oh dear. Maybe I'll have time to write about our henna party tomorrow morning before we leave. Most likely not, though!
Anyway, congratulations on getting to the end of the longest blog post ever!